The UMC Moving Advantage in NYC
For over 20 years UMC Moving has been a dedicated leader in commercial moving and record retention servicing the greater New York area. Our team of skilled professionals understands the importance of moving you from point A to point B with little or no downtime. Our experienced team and dedicated project leaders work with you every step of the way. Our extensive pre-planning process and attention to detail provide the "seamless execution" needed to complete every move, large or small, on time, and within budget.
Our Staff
UMC places great value on instability – with our clients and within our organization. As a result, we have established a permanent roster of 65 full-time people, most of whom have been with UMC for many years. Our people are honorable, broadly competent, highly respected, and uniquely dedicated to one goal – achieving a successful corporate relocation.
Our Corporate Moving Process
As a client, you will first receive a visit from one of our principals to determine an inventory of all items to be relocated as well as a survey of all buildings involved. Then, the inventory is analyzed to establish labor and equipment requirements and to develop a time frame for the relocation. At that time, the client will receive a proposal with our determinations.
Upon being awarded the project, UMC will meet with respective clients to make certain recommendations in order to reduce costs and increase efficiency to prevent "downtime."
Once the final Furniture Plan is secured, a UMC Project Manager will institute a tagging system custom-designed for the client relocation.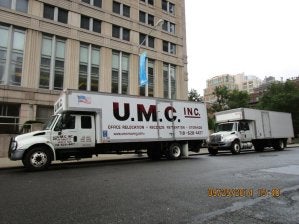 The UMC Project Manager will execute the tagging and be on site as a liaison between the client and UMC and our principals. He will also be on-site during the entire physical relocation and post-move cleanup.
Our experience, dedication, and project management are what sets us apart as the premier commercial mover. Our dedicated team of professionals works hard to ensure that your relocation runs smoothly, is complete, on time, and on budget.
Experienced: established in 1992 with over 1,000 office relocation projects in the NY metro area.
Dedicated: average length of employment is 15 years.
Focused: our only business is office relocation and storage.
Committed: a senior management person is assigned to every project as the manager of that project
Responsive: state-of-the-art communication equipment allows for immediate response to every client request
People: management, sales, and operations management staff that interacts with the labor force on a daily basis. The labor force of 35 full-time Local 814 Teamster Union Members.
Our resources include but are not limited to:
O'Neil Bar Coding Software Program
75,000 square feet warehouse space
8 full size fully equipped moving vans
4 tractor-trailer units
2 delivery vans
1 crew van
2000 dollies
15 ramps
350 library carts
50 racks of masonite