We Are File Movers in New York City
Professional File Movers in New York City
If you're planning an office relocation or corporate move, it's crucial to consider every detail to ensure it goes off safely, according to timeline, and on budget. At U.M.C. Moving Co., we have decades of experience planning and executing efficient office relocations. Our packers and movers can handle even the most complex relocations while minimizing downtime and reducing inconvenience and stress. If your office has a storage or archive library or file library, we can make sure it is moved securely without disturbing or interrupting your archiving or organizational system. Our team can handle confidential files and documents and ensure your files and file cabinets are set up correctly at your new office location. Call us today to schedule a consultation or request an estimate from our file movers in New York City.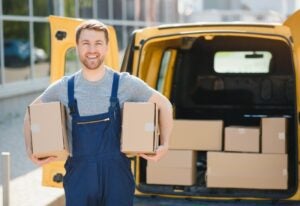 Specialized File Moving Services
We offer specialized office relocation and commercial moving solutions and file moving services to businesses of all sizes, across all industries. We have completed successful office relocations for over 1,000 local businesses since we first opened in 1992. In the decades we've been in business, we have honed and perfected our office relocation and file moving services. We offer these commercial file moving services:
Packing and storage of archival records and files using the O'Neil Bar Coding Software Program.
Inventory and packing of files and records.
Relocating files, documents, records, and filing or storage cabinets.
Secure document disposal.
Our Comprehensive File Moving Solutions
We take the time to plan extensively before each move so that we can be sure that we are on the same page as our clients regarding their needs, goals, timeline, and budget. We ensure a smooth file moving process by following this routine:
Initial Consultation and Estimate – Before you hire us, we will visit your office to discuss your move and go over your inventory, needs, goals, timeline, and budget. We can then give you a general estimate for the cost of our file moving and packing services.
Inventory – Next, we'll take an official inventory of everything that needs to be moved, and discuss your filing and organizational system and what your plans are for maintaining that system at your new office location. This will help us determine the labor and equipment needs for your move, and start developing a timeline for relocation.
Planning Meeting – Then we'll have our first planning meeting, during which we will make our recommendations for a safe, secure, and efficient move. We'll discuss how to reduce costs, maximize efficiency, and minimize downtime.
Tagging System – Next, we'll develop a customized tagging system to track your boxes throughout your relocation.
Project Management – On the day of your move, our project manager will be onsite to implement the tagging system and act as a liaison between our team and your team.
Specialized Vehicles and Equipment for Secure Transport – We have a fleet of specialized vehicles as well as professional tools and equipment that ensure the secure and safe transport of your files, documents, records, and other property to their new location.
Proper Packing Techniques to Ensure Safe Transportation – We use proper packing techniques and also maintain strict adherence to existing filing and organizational systems to guarantee everything arrives safely and securely.
Disassembly and Reassembly – If needed, we can provide disassembly and reassembly of office furniture, equipment, filing cabinets, and more.
Benefits of Hiring a Professional File Packers & Movers
Hiring our experienced team of professional file packers and movers will save you time, so you can focus on the more important aspects of your office relocation. When you hire our packers and movers, you'll enjoy these benefits:
Improve safety and security during relocation.
Mitigate risk and damage to files and equipment.
Maintain strict adherence to existing filing and organizational systems.
Increase the efficiency of your move and minimize downtime.
Enjoy access to expertise, tools, and equipment used by professional movers.
Maintain compliance with local and federal rules regarding document storage and handling.
Maintain confidentiality of the contents of files.
Comply with insurance regulations.
Get your new office up and running much more quickly.
Avoid using your employees outside the scope of their job duties.
Mitigate risk or liability of employees getting injured while moving heavy equipment, furniture, or file boxes.
Why Choose U.M.C. Moving Co. for File Moving Services
At U.M.C. Moving Co. Inc., we have been providing efficient, secure, and reliable office relocation services for over 20 years. Our team of dedicated professional movers understands how important it is to plan every second of an office relocation to make sure everything is done on schedule and on budget. We work closely with our clients to assess their needs, establish their timeline, and inventory their property so that we can develop a comprehensive plan for relocating them safely from one office to another. Our goal is to maximize efficiency and minimize downtime, and we have access to state of the art equipment and resources to facilitate even the most complex and large-scale relocations. Our only business is office relocation, corporate moves, technology and file moving services, and storage, so we have truly mastered the art of precise, efficient, and secure moving and relocation services.
Request a Quote for File Cabinet Movers in New York City
Call us today to schedule a consultation and request a quote from our file cabinet movers in New York City. We'll have a member of our team visit your office, go over your inventory and timeline, and give you an estimate. We can then begin our thorough planning process with our experienced file packers and movers.
Our Values
Experienced: Established in 1992 with over 1,000 office relocation projects in the NY metro area. Dedicated: average length of employment is 15 years.
Focused: Our only business is office relocation and storage.
Committed: A senior management person is assigned to every project as the manager of that project Responsive: State-of-the-art communication equipment allows for immediate response to every client request
People: Management, sales and operations management staff that interacts with the labor force on a daily basis. Labor force of 35 full time Local 814 Teamster Union Members.