Corporate Relocation Services in New York City
UMC Moving is the Best Corporate Relocation Company
Every business is unique, and so is every corporate relocation. UMC Moving is the experienced team to trust when it comes to corporate relocation services in New York City. We're here to help your company develop your corporate relocation plan that fits your needs without compromising quality or service. We can relocate companies of all types and sizes. Our team can also help your employees relocate if they're being reassigned to another city or office. We work with corporate relocation managers and can be a seamless extension of your relocation team. UMC Moving takes care of every aspect of your corporate relocation so you can rest easy knowing your employees and equipment are in capable hands. Learn more about our corporate relocation services in NYC and contact us today for your free quote.
Complete Corporate Relocation Services
We know that money is the bottom line in the corporate world, and downtime costs money and causes headaches. Our team of experienced corporate relocation specialists offers key performance indicators, including computer relocation, library relocation, and industrial relocation services in New York City. You shouldn't attempt to do it yourself or have your employees perform their own relocation. Your business likely utilizes complicated and expensive equipment that could easily become damaged if not moved by professionals. Hooking up all that equipment the way it should be is also a nuisance and can be difficult for the average worker. The good news is that you can leave all the details to UMC Moving while you go about your business.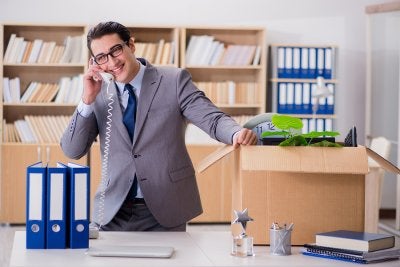 Affordable Corporate Relocation Costs
Many factors can impact your corporate relocation costs. While we pride ourselves on offering affordable services, each move is unique. We're proud to provide a free estimate, but the following factors will need to be accounted for:
Moving Distance – Moving just a few blocks away will not cost as much as a significant relocation effort involving moving entirely out of New York City.
Moving Timeline – Many businesses are under tight deadlines, but this can make your move more expensive. We work with you to plan ahead and minimize downtime.
Item Quantity – The amount of furniture and items you need to have relocated from your office or facility plays a significant role in the price of your move.
New Office Size – If you plan on expanding, it will likely cost more to move than if you're downsizing.
About Our Corporate & Business Relocation Process
We've been helping companies relocate since 1992, so we know a thing or two about the process. We have our corporate relocation process down to a science. Every move is unique, but planning is critical. We start with an inspection of your current building and the new one you're moving to. From there, we provide you with an estimate. We then come up with a game plan to minimize downtime and disruption. We'll keep in touch with you throughout the process and ensure we understand your unique needs as well as your budget. We also offer numerous payment options to make the process easy for your company.
Corporate Moving Services FAQ
We know you likely still have questions about us and our corporate moving services. Check out some answers to your most frequently asked questions, and don't hesitate to contact us if you have any others.
Can you help with office relocation moves in New York City?
Yes. We can relocate your office to or from New York City, as well as from one part of the city to another.
What office items do you move?
We move just about everything, including office furniture, computers, records, and more.
What does office relocation cost?
Each move is unique and depends on a number of factors. We're happy to provide you with a free estimate.
Do you work on weekends?
Yes. Nights and weekends are often the best times for corporate relocations as to avoid or minimize downtime.
Are you licensed, bonded, and insured?
Yes, you can trust our moving team.
Do you offer storage services, including short- or long-term storage?
Yes. We can store your records at our secure facility.
Do you provide estimates?
Yes, contact us today for a free quote.
Let UMC Moving Handle Your Corporate Relocations
We're happy to be your partner for all your corporate relocation needs. We've been serving businesses in New York City since 1992, and we've successfully handled more than 1,000 office relocation projects. Contact us today for a free estimate.
Our Values
Experienced: Established in 1992 with over 1,000 office relocation projects in the NY metro area. Dedicated: average length of employment is 15 years.
Focused: Our only business is office relocation and storage.
Committed: A senior management person is assigned to every project as the manager of that project Responsive: State-of-the-art communication equipment allows for immediate response to every client request
People: Management, sales and operations management staff that interacts with the labor force on a daily basis. Labor force of 35 full time Local 814 Teamster Union Members.