Commercial Office Furniture Liquidation in Manhattan, Brooklyn, Queens and Long Island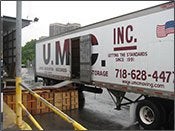 Dedicated Commercial Movers for Hassle-Free Liquidations
In today's economy, it's not out of the ordinary for office tenants to need to relocate, especially in New York City where subletting furnished office spaces is the norm. UMC Moving is often asked to help liquidate or dispose of the remaining office furniture and cubicles in such circumstances. As part of our commercial office furniture liquidation in New York and the other NYC boroughs, we'll leave your premises in a "broom swept" condition according to your commercial lease stipulations. When clients abandon their commercial furnishings, the building owners usually charge a premium plus penalties for performing necessary office cleanouts. Avoid such penalties when relocating your office by relying on UMC's dedicated NYC commercial movers for hassle-free office liquidation. Contact UMC Moving today for a free commercial office furniture liquidation estimate.
Common Reasons When Office Furniture Liquidations Are Needed
The disposal of office furnishings is a common request from NYC clients planning an office relocation. Charities have become more selective in what they will and will not accept today, often because they don't want to pay the dismantling and moving costs associated with donated office furniture. Whether you're moving to a furnished commercial space or you're ready to purchase all-new equipment, there are many reasons when an office furniture liquidation is in your company's best interests, including:
A Fresh Office Look – While you could take all of your office furnishings with you when you relocate, sometimes it's beneficial to start over with all-new furnishings. New furniture gives your new office a fresh atmosphere that can reinvigorate your employees' motivation and satisfaction levels. Reinvent your office space and transform your brand by leaving behind out-of-date office furniture and cubicles. Out with the old, and in with the new!
More Cost-Effective – Many times, it's more cost-effective to liquidate your existing furniture rather than paying the moving costs to transport everything to your new location. You also don't have to worry about damages to outdated furniture that may have already seen better days.
Less Hassle with Lease – As companies are planning their relocations, there may need to be a plan for liquidating all remaining furniture, cubicles, and file cabinets to comply with their lease agreement. You can rest assured we'll leave your original premises "broom clean."
An Eco-Friendly Alternative – Entrusting a liquidation company to remove your used office furniture makes an eco-friendly alternative to just dumping your old office furnishings in a landfill. More often than not, your old office furniture can be recycled and repurposed.
An Example of a Successful NYC Office Furniture Liquidation
Recently, UMC Moving was asked to relocate Nippon Benefit Life from 521 Fifth Avenue to 655 Third Avenue. The client asked for a quote from UMC to dispose of all remaining office effects once the physical office relocation was completed. Upon client review, our company offered the best alternative for their office furniture liquidation in NYC. We began the liquidation process on a Friday evening using garbage compactor trucks to dispose of all the remaining wooden furniture, including desks and credenzas, as well as 75 office cubicles. On Saturday, our commercial movers loaded the numerous file cabinets and refuse left behind. UMC personnel then vacuumed the space and Nippon was able to deliver the keys to the landlord, thus fulfilling all of their lease obligations.
Why you should Choose UMC Moving for Your Next Office Move in NYC?
UMC Moving's commercial movers in New York City prize our experience and dedication above all. We've been helping businesses in the five boroughs relocate since 1992. Our expertly trained movers are committed to making what can be a stressful time for your company as hassle-free as possible. Get excited to move into your new office space without worrying about your office furniture liquidation or cleaning fees. You don't have to take our word for it – read what our past clients have to say about our premier commercial office furniture liquidation services our contact our team at 631-861-3949 .