Library Relocation Services in NYC
The Best Relocation Company in New York
UMC Moving is your go-to solution for dependable library relocation services in the bustling city of New York. With our expertise and experience in handling complex library moves, we understand the specific requirements and intricacies of transporting valuable book collections, archives, and other library materials. Our dedicated team is committed to ensuring a seamless and efficient relocation, from meticulous planning to secure transportation. Whether relocating a small local library or a large academic institution, trust UMC Moving to deliver exceptional service tailored to your unique needs. Contact us today and let us take care of your library relocation with the utmost professionalism and care.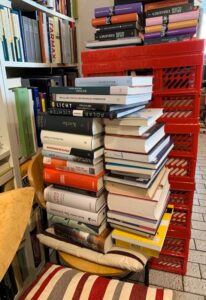 Our Reliable Library Relocation Services
UMC Moving offers reliable library moving services designed to ensure the smooth and secure transfer of valuable library materials. We understand the unique requirements of library moves and are equipped to handle the intricate process with precision and care. Our expert team specializes in the packing, labeling, and transporting of books, archives, rare manuscripts, and other library materials. We employ specialized equipment, such as book carts, archival boxes, and climate-controlled vehicles, to ensure the safe and secure transport of delicate items. Our meticulous approach, combined with our attention to detail, guarantees the protection and preservation of your library collection throughout the relocation process.
Customized Relocation Plans
UMC Moving understands that each library relocation is a unique endeavor, and we take pride in offering customized plans tailored to meet each client's specific needs. We recognize the importance of preserving the integrity and accessibility of your library collection throughout the relocation process. Our experienced team works closely with librarians and staff to develop comprehensive relocation strategies that minimize downtime and disruptions. We take the time to understand your library's layout, organizational systems, and specific requirements to ensure a seamless transition. Whether you need assistance with packing, labeling, or specialized handling of delicate materials, we have the expertise to create a customized plan that addresses all aspects of your library relocation. Trust UMC Moving to deliver a personalized approach that preserves the continuity of your library services while mitigating any potential disruptions during the move.
Cutting-Edge Relocation Technology and Equipment
UMC Moving leverages cutting-edge technology and specialized equipment to provide top-notch corporate relocation services. We understand the unique needs of library materials and the importance of their safe and efficient transport. Our fleet includes climate-controlled vehicles that maintain optimal conditions to preserve the integrity of sensitive items. We employ advanced barcode scanning systems that streamline tracking and organization to ensure accurate inventory management. Additionally, our GPS tracking technology allows you to monitor the progress of your library materials in real-time, ensuring transparency and peace of mind. We have established collaborations with industry-leading suppliers of library-specific equipment and packaging materials, guaranteeing the highest level of protection for your valuable collection. With UMC Moving, you can trust that our cutting-edge technology and specialized equipment will safeguard your library materials and provide a smooth relocation experience.
Why Choose UMC Moving
Regarding library relocation services in the dynamic city of New York, UMC Moving stands out as a trusted partner you can rely on. With our extensive experience and specialized expertise in handling valuable collections, we take pride in delivering seamless and efficient moves for libraries of all sizes. Our dedicated team understands the importance of preserving the integrity of your library materials and ensuring a smooth transition to the new location. Trust UMC Moving to handle every aspect of your library relocation with utmost professionalism and care. Contact us today to discuss your specific needs, and let us make your library move in NYC a resounding success. Your library's next chapter begins with UMC Moving.
Our Values
Experienced: Established in 1992 with over 1,000 office relocation projects in the NY metro area. Dedicated: average length of employment is 15 years.
Focused: Our only business is office relocation and storage.
Committed: A senior management person is assigned to every project as the manager of that project Responsive: State-of-the-art communication equipment allows for immediate response to every client request
People: Management, sales and operations management staff that interacts with the labor force on a daily basis. Labor force of 35 full time Local 814 Teamster Union Members.