We Are Computer Movers in New York City
Fast, Reliable Computer Movers in New York City
Whether you're relocating your business offices or expanding into new office space, moving computers and electronics requires special care and experience. AT U.M.C. Moving Co., we have a team of highly trained, experienced computer movers in New York City who excel at safely, efficiently, and reliably moving technology and equipment. Our electronic movers can handle complex, full office moves, as well as disconnecting and reconnecting computer systems, servers, data and phone lines, and oversized electronics and technology. In addition to our tech expertise and computer equipment moving experience, we also can handle project management and logistics for large-scale relocations and new office configurations. Call us today to request a quote for computer and technology moving services.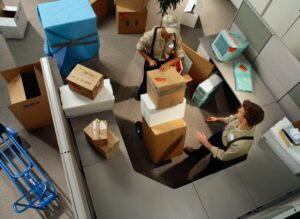 Our Computer Equipment Moving Services
Our office relocation and corporate moving specialists have perfected their skills over the last two decades in the industry. We have mastered the art of overseeing and conducting large-scale office relocations and moving technology and equipment safely and securely. Our computer equipment moving services include:
PC and Server Movers – We can manage the safe transport and assembly of PC workstations, peripherals, IP phones, printer and copier stations, and more.
Electronic Movers – We offer specialized crating and transportation services for servers, racks, mainframes, medical equipment, and laboratory equipment.
Data Center Moves – We can handle large-scale full data center migrations, and set up workstations according to any layout or needs.
De-Installation and Installation Services – We're happy to uninstall and reinstall all computers, servers, equipment, technology, peripherals, and data and phone lines.
Computer Equipment Moving and Staging – When we arrive at your new office, our team will coordinate with you every step of the way to ensure everything is set up exactly where you want it.
Rack Set-Up and Assembly – We can assemble and set up server racks.
Our team have the knowledge, equipment, and experience to safely move or transport:
Computer workstation terminals
Confidential documents and equipment
Laboratory equipment and technology
Medical equipment and technology
Multi-function photocopiers
Plotters and scanners
Plasma TVs
Printers, copiers, scanners, and fax machines
Server racks
Telephone systems
Teleconferencing equipment
Only Hire Professional Electronic Movers
Even if you think you can handle a large-scale office relocation, you'll quickly realize that the job is more complex than you initially considered. Office relocations and corporate moves require intense planning in order to stay on schedule and on budget. If you are moving expensive, oversized, or delicate pieces of equipment and technology, it's even more important that the job be approached with care and precision. Our team of professional electronics movers are committed to completing each job on time and with the attention to detail and efficiency demanded. We have extensive resources that make moving technology, computers, servers, and other equipment secure and safe.
What to Expect from Our Computer Movers
Our dedicated team of professional computer movers will coordinate with you every step of the way to make sure your job is completed safely, securely, and according to schedule. When you hire us for computer equipment moving services, you can expect a seamless, stress-free process:
Initial Consultation and Estimate – At our initial meeting, one of our principals will visit your site to discuss your needs, inventory, schedule, budget, and inventory. We can then give you a quote for the cost of office relocation services.
Inventory – Next, we'll create an inventory to determine labor and equipment needs and develop an initial time frame.
Planning Meeting – Then we'll have our first meeting, at which we will make our professional recommendations, suggest ways to cut costs, and develop a timeline to ensure efficiency and minimize downtime.
Tagging System – We use a comprehensive, innovative tagging system that is custom-designed to track your inventory during your move.
Project Management – On the day of your move, our project manager will be onsite to execute the tagging system and act as a liaison between our team and your team.
Specialized Vehicles and Equipment for Secure Transport – We have access to a huge inventory of equipment, tools, and vehicles that ensure a safe and secure move.
Proper Packing Techniques to Ensure Safe Transportation – We maintain proper packing, crating, and palletizing techniques to keep all of your equipment and technology secure during transport.
Disassembly and Reassembly – Our team offers disassembly and reassembly services to ensure your office is set up and ready to go for you and your staff as quickly as possible.
Why Choose Our Server Movers at U.M.C. Moving Co.
At U.M.C. Moving Co., we have successfully completed over 1,000 office relocations since we opened our doors in 1992. We specialize in office relocations, corporate moves, moving technology and equipment, and record retention and storage services. Each member of our team is highly trained and experienced, and is dedicated to approaching each job with professionalism, attention to detail, punctuality, and a focus on customer service. We have the tools, equipment, and expertise to handle any job, big or small, with efficiency, precision, and care. Our primary goal is to ensure that your relocation goes according to schedule and budget, without downtime or inconvenience to you or your staff.
Request an Estimate for Moving Technology in New York City
Call us today to request an estimate for the cost of moving technology in New York City. We'll visit your office and assess your inventory, discuss your timeline and plans, and go over what you need at your new location. We can then give you an accurate quote for the cost of our computer equipment moving services. Reach out to us today to schedule a consultation and request a proposal from our electronics movers.
Our Values
Experienced: Established in 1992 with over 1,000 office relocation projects in the NY metro area. Dedicated: average length of employment is 15 years.
Focused: Our only business is office relocation and storage.
Committed: A senior management person is assigned to every project as the manager of that project Responsive: State-of-the-art communication equipment allows for immediate response to every client request
People: Management, sales and operations management staff that interacts with the labor force on a daily basis. Labor force of 35 full time Local 814 Teamster Union Members.