Office IT Relocation Services in the New York City Metro Area
Over 1,000 Office Relocations and 20+ Years of Experience
As your business expands, a new office may be necessary to meet your growing needs. Relocating your office can be quite an undertaking. Once you've settled on the right real estate, you must think about moving everything from the plants and furniture to your employees and equipment. One of the largest components of an office move is transferring sensitive IT technology. Working with a company that specializes in IT relocations ensures a smoother transition. If you need office IT relocation services in the New York City metro area, UMC Moving has more than 20 years of expertise. Our commercial movers have completed over 1,000 office relocations, giving us unique insights to improve the experience. Discover what makes us office relocation experts when you contact us for a free moving estimate.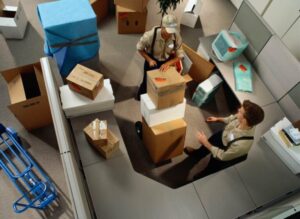 What's Involved in the Office IT Relocation Process?
An office move represents a bigger challenge than merely moving files and furniture. Most businesses must also consider their IT equipment, including systems, servers, workstations, and hardware. The IT relocation process requires finesse and expertise to eliminate downtime during the move. We follow an IT relocation checklist to ensure everything about your office move goes according to plan. Planning every detail of your move can help you save time and money and reduce moving stress.
UMC Moving has handled NYC office relocations of all sizes and has spent years perfecting the process. We're with you from start to finish for your peace of mind. Our experts will meet with you to plan the best layout for your IT department in the new location, taking into account the electrical and structural requirements. We'll ensure the proper packing materials and moving equipment are used and then help you set up your IT equipment in your new office. Our office IT relocation specialists work to lessen the likelihood of connectivity issues. Should you require ongoing support after your move, give us a call.
Customizing Our IT Equipment Relocation Services to Your Needs
Every company's IT technology is different, but we can tailor our IT equipment relocation services and support to accommodate your needs. Here's a sample of what we can provide for your business:
Workstation Tear-Down & Set-Up – Depending on how many employees you have, tearing down and setting up every workstation can be a process. However, we're well-equipped for the job. We'll ensure every monitor, mouse, and keyboard makes it from one workstation to the next!
Hardware Deployment – Are you deploying new IT technology at your new location? We can help you set up and test everything (from phones to computers) before your employees arrive. We'll learn the ins and outs of your IT infrastructure to get you back up and running efficiently.
Data Center Relocation – Does your operation include a vast data center? Our IT relocation checklist ensures nothing gets missed in the planning and executing of your data center move. Our experts will remain with you post-move to answer questions and address concerns.
IT Equipment Recycling – If you're planning to upgrade your company's IT technology, getting rid of outdated equipment can be cumbersome. We can take care of recycling any e-waste you may have accumulated so you can start fresh in your new office digs.
IT Equipment Inventory – We would be happy to help you itemize every piece of IT equipment in your office to ensure nothing gets lost during the move. We'll also help you account for everything after your IT relocation has been completed.
How Do We Eliminate Downtime & Reduce Risks During IT Relocation?
Not having an IT relocation checklist puts you at risk for problems during your corporate move. However, working with the experienced UMC Moving team can put most of your moving anxieties to rest. Our team will do everything possible to minimize or eliminate downtime during your IT relocation. We'll help you protect any critical data on your workstations, servers, and firewalls during the move and help you troubleshoot any connectivity issues afterward. We document everything from start to finish and ensure there are working backup solutions for any potential problems. Check out our testimonials to see why our IT office relocation services are highly recommended.
Why Choose UMC Moving for Your IT Relocation in the NYC Metro?
Since 1992, UMC Moving has specialized in corporate relocations of all sizes. Taking the time to get to know your business helps us anticipate the level of support you need to ensure your satisfaction. Our IT relocation services are seamless to guarantee minimal disruption to your operations. Our movers know how fragile your IT equipment is and how to handle it with care to prevent damage. You can rely on our flawless record of care, attention, and professionalism to get you moved from point A to point B. In addition to our office IT relocation services in the NYC metro area, we specialize in the following:
Get Started With a Free Moving Estimate From UMC Moving
Relocating your office is an exciting endeavor. Employee morale often goes up once the word is out that you're moving into a better space and updating your IT technology. However, the most successful office relocations all have one thing in common: partnering with the right moving company to ease the process. UMC Moving has helped thousands of businesses make their move. Please contact us to learn more about our office IT relocation services in the New York City metro area. We offer free estimates!
Our Values
Experienced: Established in 1992 with over 1,000 office relocation projects in the NY metro area. Dedicated: average length of employment is 15 years.
Focused: Our only business is office relocation and storage.
Committed: A senior management person is assigned to every project as the manager of that project Responsive: State-of-the-art communication equipment allows for immediate response to every client request
People: Management, sales and operations management staff that interacts with the labor force on a daily basis. Labor force of 35 full time Local 814 Teamster Union Members.