Commercial Moving Services, New York, NY
Get Your Business Up and Running with UMC'S Moving Services
In the world of business, time is money. You can't afford to wait when relocating your business to a new office or facilities. You need a moving company to pack up everything, navigate the tight quarters and busy streets of the Big Apple, and get you moved and fast. Make UMC Moving your trusted source when moving your business and get the experience you deserve. Our company has been moving businesses in and around New York City, and across the country, for more than 25 years. We have the personnel, warehousing, vehicles, and dedication to ensure an ideal move for your business. Our management teams work with sales, operations, and our labor force daily to provide clear communications and immediate response. Working in collaboration, UMC Moving offers a full range of professional services, whether you need simple storage or complete office relocation. Call us today for more information or to get your free quote!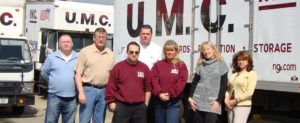 Full Range of Commercial Moving Services
A commercial move can be a daunting task. There are more than move times and costs to consider. When you relocate your business, you will undoubtedly have the equipment, installations, records, and employees who will need special care and attention. Trying to organize and attend to all of those moving parts while still running your business can be next to impossible. Let UMC Moving handle all the details! We offer a full range of expert services to take care of every logistical consideration, down to the smallest detail. These include:
Relocation: Relocation is more than just "moving." Relocation includes creating a plan to dismantle, transport, and reconfigure every aspect of your enterprise, then executing everything according to your needs. Our company has full teams of experienced professionals ready to relocate files, equipment, furniture, employees, and systems to new office facilities and restore full operation – including a breakdown and set up – in a timely, efficient, flawless manner that works for you.
Moving: When you opt to move your commercial equipment, computers, and records, you're putting your profits and livelihood in danger. Items can be broken, lost, misplaced, or damaged. Why take the risk? Since our inception, our company has moved over 1000 businesses and maintained a flawless record for care, attention, and professionalism. We have the vehicles, manpower, and experience to ensure all your commercial essentials travel from point A to point B without so much as a scratch. Whether across town or the country, UMC reduces downtime to get you back to business.
Storage: When your usual storage facilities won't cut it, or you simply don't have anywhere to keep your critical files, UMC Moving can help. We provide safe, secure, accessible storage arrangements for all kinds of records and files in our physical locations to give you the ultimate convenience and peace of mind. Your sensitive data is always in the hands of experienced professionals who know what you expect and provide so much more.
Why Choose UMC for Your Unique Move?
There are many moving companies operating in New York City and the Tri-State area. Knowing whom to trust for your commercial move can make all the difference in terms of ease, timeliness, and results. Savvy business customers choose UMC Moving over other competitors for a variety of reasons:
A Rich History of Expert Service: Our company has more than 25 years of hands-on experience in commercial moving, relocation, and storage. We have worked with over 1000 companies in the past, and continue to provide expert services for moves large and small.
Expertise from Experience: UMC Moving can offer our customers everything because we have done everything regarding business relocations and moves. Our teams of laborers, managers, and operations staff have the right, hard-earned experience to make the right calls for almost any moving situation.
Savings: Working with a moving professional saves you more time and money. With one phone call to us, you can pack up and move your entire business, keep your employees safe and working, and ensure everything arrives on time and location unharmed. That means no lost productivity, no replacing files or furniture, and improved focus for the things that are truly important.    
Competitive Prices: New York City is an expensive place to live and work. We keep our prices as competitive as we can so you can allocate your resources towards your business and never break the bank for your corporate moving needs.
Fast Service: UMC Moving knows the business world waits for no one. That means everything we do for your move stays focused on safety, speed, and efficiency to reduce downtime.
We Love What We Do!: Our helpful, knowledgeable, experienced team goes above and beyond the service standard because we love what we do. From secure on-site storage in our state-of-the-art facilities to full company relocations and liquidations, our teams are eager and excited to show you the real difference we can make.
Contact UMC Moving for Professional Assistance
Next time you need to move your office, don't do it alone. Count on the superior commercial movers with a top reputation in New York City, NY. Talk to our relocation company experts at UMC Moving today and get a personalized quote that matches your business needs.
Our Values
Experienced: Established in 1992 with over 1,000 office relocation projects in the NY metro area. Dedicated: average length of employment is 15 years.
Focused: Our only business is office relocation and storage.
Committed: A senior management person is assigned to every project as the manager of that project Responsive: State-of-the-art communication equipment allows for immediate response to every client request
People: Management, sales and operations management staff that interacts with the labor force on a daily basis. Labor force of 35 full time Local 814 Teamster Union Members.