Corporate Moving Services in New York City
Allow UMC Moving to Handle Your Corporate Move
If your business is looking to move to a new location, you need an experienced moving company you can trust. UMC Moving provides corporate moving services in New York City. We can help businesses of any size relocate to a new office or commercial facility. There are plenty of reasons for corporate moves, and those moves should always be left to the professionals. Attempting to have your employees move all your equipment and records is a recipe for disaster. Whether you're just moving a few streets away or into another city, UMC Moving is the team to trust. We'll handle every step of the corporate moving process, so you can rest easy knowing everything will be moved safely and on time. We know that time is money in the corporate world and minimizing downtime while getting all your equipment to your new location without a scratch is paramount. We've performed more than 1,000 office relocations since 1992, and we'd be proud to add you to our list of satisfied clients. Find out more about our corporate moving services and contact us today for a free quote.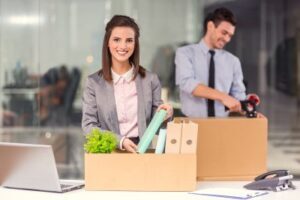 Comprehensive Corporate Moving Services
You shouldn't trust just anyone to take care of your corporate moving needs in New York City. UMC Moving uses key performance indicators to ensure we're getting the job done right. Our experienced, professional movers are always on time. We know time is of the essence because time is money in the corporate world. We communicate with you to help you rest assured that we're staying on schedule and can let you know where we are in the moving process at any given time. Some services that set us apart from the rest include helping with logistics and providing record storage services. We know that moving is never easy if you're not a professional. If you've ever moved your home or business, it likely wasn't a walk in the park. While some people can move from one home to another themselves, corporate moving is something else altogether. There are many factors to take into account, including time, logistics, safety, and efficiency. We can get your office or business from point A to point B with no trouble. We can move your corporation at any time, including nights and weekends. Our highly-trained and -experienced corporate movers use efficient techniques and strategies to ensure your equipment, furniture, and documents stay safe and secure throughout the move.
The Best Time to Move from New York City
Doing business in New York City isn't cheap. Every company that needs to move has its own unique budget and needs. If you know you want or need to relocate your corporation, timing is critical. While some businesses have to move at a specific time due to their lease, others can choose the best time of the year. The experts say that the best time to move to NYC is February, although this information is primarily geared towards residential renters. Winter is considered a good time to move in or from New York City because of the weather. Fewer companies are likely to relocate during the colder months. When you hire UMC Moving, you don't have to worry about the weather because you can stay home or hang out in your new building while we take care of all the heavy lifting for you. We can help you find the best time to move. In many cases, corporate moves take place after hours or on weekends. This will help you minimize downtime and disruption to your business. Our logistics specialists will be happy to work with you to determine the best time to plan your corporate move.
Why You Should Choose UMC Moving
Whether your business is expanding, downsizing, or has different needs than in the past, we're here to help. These days with more employees working from home, sometimes it doesn't make sense to pay the high costs associated with rent in New York City. As the commercial moving experts, it's our job to ensure your move goes smoothly. We've successfully tackled more than 1,000 office relocation projects since 1992. Choosing us means saving time and money. Everything will get where it needs to go without a scratch on it. You won't put your employees at risk of injury. Many employees resent being asked to help move the office, so leave it to the professionals. Our team will reduce the amount of downtime, so you can get your business back up and running as fast as humanly possible. We can help provide tips for you to get things set up before your move, so the whole process goes effortlessly. Our corporate moving specialists are ready to speak with you about your unique needs and provide you with a free estimate. Contact us today to get started!
Our Values
Experienced: Established in 1992 with over 1,000 office relocation projects in the NY metro area. Dedicated: average length of employment is 15 years.
Focused: Our only business is office relocation and storage.
Committed: A senior management person is assigned to every project as the manager of that project Responsive: State-of-the-art communication equipment allows for immediate response to every client request
People: Management, sales and operations management staff that interacts with the labor force on a daily basis. Labor force of 35 full time Local 814 Teamster Union Members.