Commercial Moving Services in NYC
Expert Moving Company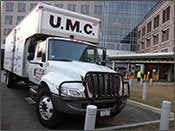 Our UMC Fleet prides itself in having the most efficient and up-to-date fleet to provide the highest quality for the most affordable prices. Call UMC for your commercial move in Manhattan, Brooklyn, or Greater NYC today at 631-577-0310.
International moving vans with 24′ body and 4000 lb. lift gate
International twin axle tractors
Isuzu delivery vans with 2000 lb. lift gates
Ford Econoline Model 350
Relocation Services in Brooklyn and Greater NYC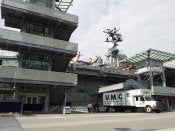 Office relocations
Industrial and plant relocations
Packing and unpacking
Computer disconnect, pack, relocation
Building protection options
New product distribution services
File room and library relocation
Furniture installation & reconfiguration
Citibank Relocation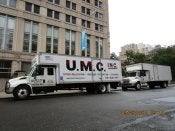 U.M.C Moving was solicited by Citibank to handle a relocation of 2000 personnel from Long Island City, 388 and 390 Greenwich Street in Manhattan to 111 Wall Street in Manhattan. The project is part of a plan to perform renovations at the origin headquarters and to utilize 111 Wall Street as swing space. Upon completion of construction, the personnel will be moved back to Long Island City and Greenwich Street.
Zurich Insurance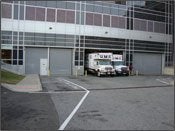 Earlier in 2012 UMC Moving was awarded a 1500 person internal restack at 1 Liberty Plaza in Manhattan for Zurich Insurance. The restack consisted of an extensive amount of file rooms amounting to some 40,000 lineal feet of filing to be tagged, packed, shifted and unpacked by UMC in coordination with the move of the 1500 personnel over several phases. In August, Zurich needed 500 personnel shifted internally which was outside the scope of the original Bid. To make the project more challenging, the 500 Zurich employees had to be shifted in one weekend from and to different floors at 1 Liberty Plaza.
Stan Oglesby and Maurice Ingram managed the Project for UMC which entailed using 30 men and completing the moves by Saturday Evening.
UMC 's performance for Zurich has enabled UMC to perform storage services for Zurich as well as moving their offices in Tarrytown, New York.
Jazz at Lincoln Center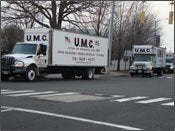 In August, UMC Moving was awarded the relocation of Jazz at Lincoln Center which was founded by the jazz musician, Wynton Marsalus. The move encompassed office furniture, personal effects of 100 personnel and an extensive Music Library that UMC was entrusted to pack and unpack in coordination with the offices. Jazz was moving from 33 West 60th Street to 3 Columbus Circle and the client specified that the move had to be completed by Friday Evening. On the Day before the move, Stan Oglesby, UMC Project Manager identified to the client that they were short on file cabinets in the new space, therefore, the common filing could not be completely unpacked. This accounted for 100 drawers of files that would have to be staged until more cabinets were ordered.
To compound the problem, the steel shelving that was ordered to accommodate the Music Library was not delivered until the Friday of the move and 200 File Conveyors with priceless recordings could not be unpacked during the move which had been part of the original Move Schedule. The client Facilities Personnel were concerned about where to stage so much product. UMC gave them the solution. It was decided while doing the move that the 200 Conveyors would remain on UMC trailers until the Library Shelving was installed—3 days later. At that point, UMC would deliver and unpack the library.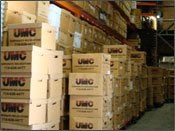 The issues of file allocations and the timing of furniture and shelving deliveries are Interior Design Issues. In this case, it was determined that the architect never did a file allocation survey and was late in ordering shelving which created additional work for UMC and expense for the client. The additional costs were discussed with the customer beforehand so they could make an educated decision.
When working with a Professional Interior Designer, it is imperative that they take a survey of how many drawers of files are necessary in the new space after a Purge/Archiving effort has been made.
ING Barings Move.
UMC Moving was awarded the relocation of 600 employees for ING Financial. The move consists of contents and technology to be relocated from 1325 6th Avenue in Manhattan to 1133 6th Avenue over 4 Phases. UMC was also asked to handle the installation of in excess of 600 new flat screen monitors. The UMC crew of 4 Moving Vans and over 20 men have received accolades from the client on the efficiency of the relocation. This is the third time UMC has moved the ING Corporate Offices and represents a 20 year uninterrupted working relationship between the 2 firms.