Commercial Moving Solutions in New York City
Move Your Business in No Time With UMC
If you are relocating your business, we are the experts you can trust to get you in your new space. UMC Moving in New York City is the team of experienced commercial moving specialists here to help relocate your company with ease and efficiency. Whether you're expanding, moving, or reshuffling, it's essential to hire a professional corporate relocation service to ensure the task ahead of you is as effortless as possible.
Our commercial moving services have been making corporate relocation a breeze for over two decades. We'll ensure your company's move is performed with the utmost attention to safety, efficiency, and professionalism without creating disruption to your business. We move businesses of all sizes and specialize in every aspect of the commercial moving process, including computer relocation, library relocation, industrial moving, and storage and record retention. Get in touch with us today to discover how our moving solutions can help you concentrate on running your business operations efficiently.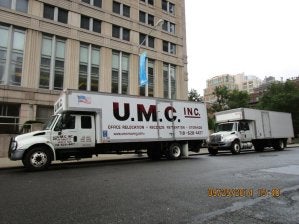 Enjoy the Benefits of Hiring an Office Moving Company
When you run a business, you have more important things to do than micromanage every aspect of a company relocation. Hiring a professional office moving company like UMC Moving allows you to focus on the things that matter the most while we sort out everything else. When you choose our commercial moving company, you'll gain a range of benefits, including:
Help With Logistics – With over two decades of experience, we've learned a lot about efficient techniques and strategies to ensure your equipment, furniture, and documents remain safe.
No Chance of Injury – Don't put you or your employees at risk for move-related injuries. Our expertise allows us to complete the job safely and efficiently, so you don't have to lift a finger.
Minimal Downtime – Reduce the amount of downtime you'd typically have to endure to plan a corporate relocation. Our team will handle nearly every aspect of planning, organizing, and executing your move so you can focus on your business.
The UMC Moving Process
We make the business moving process simple. We'll determine the scope of your move and offer an accurate assessment of what to expect from the final bill. A skilled project manager will organize and manage a customized plan to ensure a fast and effective relocation. We'll document and track every item we handle using state-of-the-art barcoding software. On moving day, we'll send over a strong, friendly team of movers with a fleet of vehicles and moving equipment to pack and carefully secure them for relocation. We can often complete a large office relocation in just a few hours. Contact us today to schedule your free estimate.
Factors That Affect Office Relocation Costs
When you partner with UMC Moving, there are no hidden surprises. We're dedicated to making your relocation as seamless and affordable as ever. Some of the factors that can affect the final cost of your office relocation include:
The distance between your initial and final destinations
The number and type of items you will be moving, including computers, office furniture, mechanical equipment, records, library materials, and anything else that will be relocated
The amount of time you have to complete your move, which may affect the moving plan and the number of phases in which the move will be performed
Any additional special considerations, such as archive destruction and the handling of irreplaceable, fragile, or very large materials and equipment
Tips for a Smooth Corporate Relocation Experience
UMC Moving makes it easier than ever to accomplish a seamless business relocation. As your moving partner, we will provide you with the convenience you need to keep your business on track. To create an effortless moving experience, here are a few tips to stay ahead of schedule:
Determine your moving budget and timeframe and communicate these clearly to your corporate relocation company. Keep in mind that you may need to be flexible to ensure your movers can accommodate your needs fully.
If you are moving to a new location, make sure your destination will be ready to receive your equipment on the move-in date. You may need to establish electricity, internet, water, and telephone service well in advance of your move.
Communicate regularly with employees and clients throughout the move to minimize confusion before and after the relocation.
Select an experienced and reputable moving company like UMC Moving, which is licensed and insured to perform corporate relocation services in your area. If you have special considerations regarding equipment or media, make sure the company you hire can meet all your needs.
The UMC Moving Advantage
When you enlist UMC Moving's quality commercial moving services, you'll have access to experts in the industry dedicated to making your moving process easier than ever. Gain the advantage of having the most efficient, detail-oriented, and affordable moving service in NYC. Our corporate moving program has been streamlined over the course of 20+ years, and our experience has helped build our reputation for delivering consistent results. Don't stress over the challenge of moving the location of your business – get in touch with our team of moving professionals today and let us help you organize the most efficient relocation solution.
Our Values
Experienced: Established in 1992 with over 1,000 office relocation projects in the NY metro area. Dedicated: average length of employment is 15 years.
Focused: Our only business is office relocation and storage.
Committed: A senior management person is assigned to every project as the manager of that project Responsive: State-of-the-art communication equipment allows for immediate response to every client request
People: Management, sales and operations management staff that interacts with the labor force on a daily basis. Labor force of 35 full time Local 814 Teamster Union Members.