Office Moving Services in NYC
Office Movers You Can Count On
Looking for efficient and seamless office moving services in the bustling city of New York? UMC Moving has been a trusted leader in the industry for over 20 years, specializing in corporate relocations and record retention throughout the greater New York area. With our team of experienced professionals, dedicated project leaders, and meticulous attention to detail, we ensure that your office move is executed flawlessly, minimizing downtime and maximizing efficiency. From pre-planning to post-move cleanup, our comprehensive approach guarantees a smooth transition for businesses of all sizes, on time and within budget. Discover the difference between working with UMC Moving and make your next office move a stress-free success. Contact us today to schedule a consultation and experience our exceptional commercial moving services firsthand.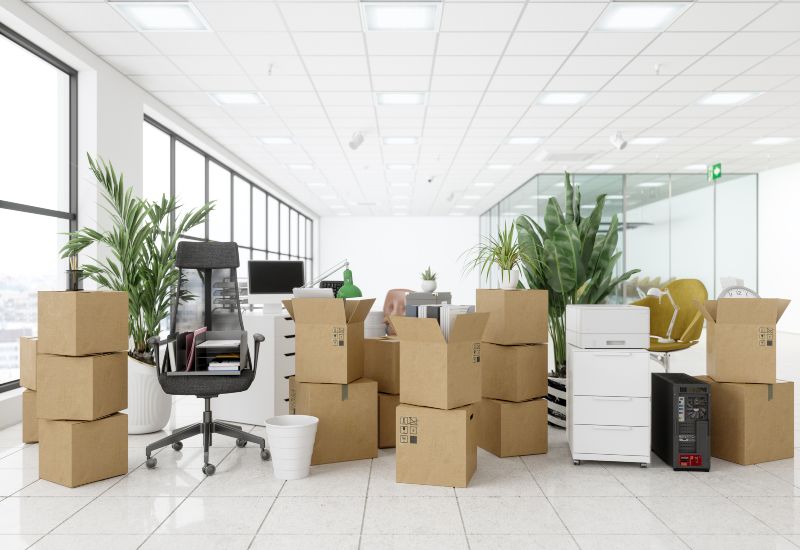 Our Comprehensive Office Relocation Services
UMC Moving offers a comprehensive range of office relocation services to ensure a smooth and efficient transition for your business. Our skilled team provides expert packing, unpacking, furniture disassembly/reassembly, IT equipment relocation, and specialized moving for fragile items. We understand the importance of safeguarding your office belongings, so we use high-quality packing materials and techniques to ensure their safe transportation. In addition to these key services, we offer convenient storage solutions to accommodate any temporary storage needs during the transition. Our team is also experienced in furniture installation, ensuring your new office space is set up and ready for operation.
Our Expert Moving Team
Our skilled team of movers brings years of experience in handling office relocations, ensuring a smooth and efficient transition for your business. They have undergone rigorous training and hold relevant certifications, distinguishing them as experts in the field. Our team's commitment to professionalism, efficiency, and attention to detail sets us apart from competitors. We understand the importance of your office belongings and strive to handle them with the utmost care and precision.
Customized Moving Plans to Suit Your Needs
We recognize that every office move is unique, and we pride ourselves on offering customized moving plans tailored to meet each client's specific needs. We understand that your business has a budget, timeline, and specific requirements, and we work closely with you to develop a comprehensive moving strategy that aligns with these factors. Our team takes the time to listen to your needs and preferences, allowing us to create a customized plan that addresses all aspects of your office relocation. Whether you require a swift and efficient move or a phased relocation to minimize disruption, we have the expertise to design a solution that works best for you.
Cutting-Edge Moving Technology and Equipment
UMC Moving stays at the forefront of the industry with cutting-edge technology and state-of-the-art equipment to deliver a smooth and secure office relocation experience. Our commitment to utilizing modern technology sets us apart and ensures the highest level of efficiency and safety. We employ advanced GPS tracking systems that allow us to monitor the progress of your move in real-time, providing you with peace of mind and transparency throughout the process. Our climate-controlled vehicles safeguard your sensitive equipment and ensure optimal conditions during transportation. Additionally, we offer secure storage facilities equipped with advanced security systems to protect your belongings if needed.
Why Choose UMC Moving
Don't let the challenges of office relocation in the fast-paced city of New York overwhelm you. UMC Moving is here to provide top-notch office moving services tailored to your needs. With our extensive experience, dedicated team, and commitment to seamless execution, we take the stress out of your move, allowing you to focus on what matters most – running your business. Our professional office movers have you covered whether you're moving locally or interstate. Trust UMC Moving to handle every aspect of your corporate relocation with precision and care. Contact us now to request a free estimate, and let us make your office move in NYC a smooth and successful one.
Our Values
Experienced: Established in 1992 with over 1,000 office relocation projects in the NY metro area. Dedicated: average length of employment is 15 years.
Focused: Our only business is office relocation and storage.
Committed: A senior management person is assigned to every project as the manager of that project Responsive: State-of-the-art communication equipment allows for immediate response to every client request
People: Management, sales and operations management staff that interacts with the labor force on a daily basis. Labor force of 35 full time Local 814 Teamster Union Members.