NYC's Last-Minute Moving Services
UMC Moving Provides Last Minute Movers
Unexpected changes in plans can wreak havoc on your business. Whether another moving company canceled, or you have an emergency need to move business locations, UMC Moving provides last-minute moving services in New York City. We're ready and stocked with the items you need to ensure a safe and efficient last-minute move. Our professional team of movers has packed and moved thousands of businesses in New York City. We know what it takes to get the job done right. We know a last-minute move is stressful for a corporation, so we're here to answer any questions or address concerns about our process. Contact us today!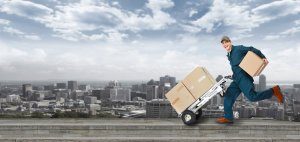 Last-Minute Moving Services
Our goal is to make your office move as painless as possible. Our last-minute moving services in NYC include:
Office – Our professional crews can pack and move any size of business or corporation. You'll get back to daily operations as quickly and efficiently as possible.
Furniture – Don't try to handle large, bulky office furniture yourself. We have the proper equipment to move your office furniture, no matter the size.
Packing and Unpacking – You might be tempted to throw office items in the back of a truck and haul it yourself. Our crew ensures your items are safely boxed and transported to lower any risk of damage.
Storage – If you need a place to store files or furniture during your move, we prove safe and secure storage arrangements.
Flexible Last-Minute Moving Schedule
UMC Moving tries to be as flexible as possible with our clients. We understand last-minute circumstances can force a change in the date of your move. We will add crew members or additional services to accommodate your office move. We put customers first to ensure your office move is as smooth as possible. We'll try our best to maintain maximum flexibility for you.
Trust Our Last-Minute Project Managers
A UMC Project Manager ensures your last-minute move is timely and free of stress. They'll institute our tagging system that is custom designed for the client relocation. You'll have peace of mind knowing there is an on-site liaison. Your Project Manager will be there during the last-minute physical relocation and the cleanup. You can trust us to treat your last-minute move with optimal respect.
Choose UMC Moving for Your Last-Minute Move
Don't feel scared and anxious about moving at the last minute. Trust us with your last-minute moving needs. We're a top choice for many reasons, including:
Experience – Established in 1992, we've helped over 1,000 offices move to their new location in the NY metro area.
Licensed, Bonded & Insured – UMC Moving is fully licensed, bonded, and insured for your peace of mind.
Dedication – Our employees are knowledgeable and experienced, with an average length of employment of 15 years with us.
Focus – Since we only provide office relocation and storage, we're dedicated to entirely focusing on our corporate clients' needs.
Contact UMC Moving Today
A last-minute office move might scare you, but we will step in to save the day. UMC Moving is here to pack and move your office to another location. We'll take it to your new business location quickly and efficiently. You'll save time, money, and alleviate stress with one call to us. Contact us today for your last-minute move!
Our Values
Experienced: Established in 1992 with over 1,000 office relocation projects in the NY metro area. Dedicated: average length of employment is 15 years.
Focused: Our only business is office relocation and storage.
Committed: A senior management person is assigned to every project as the manager of that project Responsive: State-of-the-art communication equipment allows for immediate response to every client request
People: Management, sales and operations management staff that interacts with the labor force on a daily basis. Labor force of 35 full time Local 814 Teamster Union Members.