Corporate Packing Services in New York City
Making Business Relocations Easier Than Ever
Moving an entire office can be a daunting task. The good news is that UMC Moving offers New York City clients professional packing services to alleviate the stress of packing items into boxes. We understand moving to another location is challenging enough without adding packing on top of it. We offer a range of quality services to help get your business to your new commercial space as quickly and efficiently as possible. Since 1992, we've successfully moved more than 1,000 businesses, and our experience has allowed us to streamline a corporate relocation program that's detail-oriented and cost-effective. Get in touch with us today to learn more about our packing services and get your business relocation started today.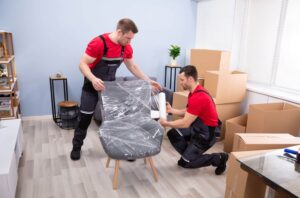 The Range of Packing Services We Offer
Our experienced team of moving professionals offer various types of packing services to make your corporate moving process more manageable. When you enlist UMC Moving's commercial moving service, you can expect a range of packing service options, including:
Full Pack – We'll come in and do everything without you ever having to worry about packing at all. From floor to ceiling, our team will quickly pack your things on moving day. We'll do all we can to reduce costs and increase efficiency in packing and moving your entire business.
Partial Pack – We'll accommodate you to whatever degree of your choosing. Whether you need us to pack half of your building or just your office, we are here for your needs to make the experience quick and easy.
Unpacking Services – We'll organize a schedule with you to unpack items at your new location. If you need a few hours of assistance or an entire unpacking job, we're up to the task.
Advantages of Our Packing Services
Reap all the benefits of hiring a packing service to do all your heavy lifting. Some of the primary advantages of UMC Moving packing services include:
Speed – We'll finish the job with care as quickly and efficiently as possible.
High-Quality Boxes – We thoughtfully choose high-quality, sturdy boxes to meet the needs of your various items.
Ease – You'll have peace of mind knowing your business items are safe in the hands of professionals without having to lift a finger. Even tricky, hard-to-pack items will be handled with the utmost care.
Safe and Reliable Packing Resources
Downtime in the corporate world costs money and causes stress. Our corporate relocation specialists are professionally trained to pack and safely move your corporate belongings. We understand businesses use expensive equipment that can be easily damaged. We'll ensure your business equipment arrives safely and on time and that every item is accounted for through an unrivaled level of organization. Some of our professional resources to ensure a safe, efficient and reliable packing process include:
State-of-the-Art O'Neil Bar Code Tracking Software
Eight Fully-Equipped Moving Vehicles
Four Tractor-Trailer Units
2,000 Dollies
15 Ramps
350 Library Carts
Choose UMC Moving for Your Commercial Moving Needs
The team of professionals at UMC Moving is committed to providing the highest degree of convenience and reliability to make your business relocation a seamless, stress-free experience. Whether you're moving down the street or to another city, we have the knowledge and experience to meet your every demand. When you need professional packing and loading services for your business moving process, we're here to assist with advanced solutions that won't break the bank. We will help you save time and money with the superior packing and unpacking services you and your company deserve. Make your business move as smooth as possible – enlist the expert services of UMC Moving.
Contact UMC Moving Today
Get your company's relocation started on the right track. Whether you're a small start-up with only a few employees or a large corporation, we know commercial moving can be a challenge. UMC Moving is ready to meet those challenges and move your company quickly and effectively. We'll handle all the details, heavy lifting, packing, and unpacking so you can concentrate on your business operations. Contact us today and schedule your company relocation with UMC Moving.
Our Values
Experienced: Established in 1992 with over 1,000 office relocation projects in the NY metro area. Dedicated: average length of employment is 15 years.
Focused: Our only business is office relocation and storage.
Committed: A senior management person is assigned to every project as the manager of that project Responsive: State-of-the-art communication equipment allows for immediate response to every client request
People: Management, sales and operations management staff that interacts with the labor force on a daily basis. Labor force of 35 full time Local 814 Teamster Union Members.