Corporate Relocation Services in New York City
New York City Corporate Moving Company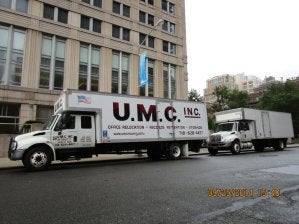 Is your business expanding, moving, or reshuffling? Whether you will be physically moving to a new location or simply need to perform an internal restack of employees and resources, office relocation can be a logistical challenge—and one that you shouldn't undertake yourself. Seeking the assistance of a corporate moving company serving Brooklyn will ensure that your corporate relocation is performed safely, efficiently, and professionally for the best results with the lowest possible stress. UMC Moving specializes in corporate relocation services in Brooklyn and Manhattan, including computer relocation, library relocation, and industrial relocation. We also offer storage and record retention and furniture liquidation.
Factors that Affect Corporate Relocation Costs
There are many factors that can affect the cost of your corporate relocation project. The majority of these factors involve the size and scope of the project. Prior to any corporate relocation, your commercial moving service will discuss every aspect of the move with you so you can come to an agreement regarding services and costs. Some of the factors that will affect your corporate relocation costs include:
the distance between your initial and final destinations.
the number and type of items you will be moving, including computers, office furniture, mechanical equipment, records, library materials, and anything else that will be relocated.
the amount of time you have to complete your move, which may affect the moving plan and number of phases in which the move will be performed.
any additional special considerations, such as archive destruction and the handling of irreplaceable, fragile, or very large materials and equipment.
Tips for a Stress-Free Corporate Relocation Experience
While moving can be a stressful experience, planning ahead and working closely with your corporate moving company can alleviate worry and ensure your move is a smooth one. If you are planning a corporate relocation in Manhattan, contact UMC Moving by calling (718) 628-4477 today.
Select an experienced and reputable corporate moving company that is licensed and insured to perform corporate relocation services in your area. If you have special considerations regarding equipment or media, make sure the company you hire is capable of handling all your needs.
Determine your moving budget and timeframe and communicate these clearly to your corporate relocation service. Keep in mind that you may need to be flexible to ensure your movers can accommodate your needs fully.
If you are moving to a new location, make sure your destination will be ready to receive your equipment on the move-in date. You may need to establish electricity, internet, water, and telephone service well in advance of your move.
Communicate regularly with employees and clients throughout the move to minimize confusion prior to and after relocation.