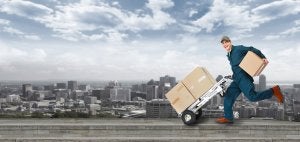 Corporate relocation is a terrific choice for many different types of businesses. When you choose to move your business with the help of commercial movers, you will ensure that your transition to a new city or state is smooth and seamless. Corporate moving companies can help your business remain productive during your big move. A company offering office moving in Manhattan can provide you with all of the file retention and furniture moving services you need to transition your business to your new office space. If you are planning a corporate move, read on for some important information about your upcoming relocation.
State Fees
Every corporation must pay taxes to both the state and the federal government. When you choose to move your business, you should determine whether it will be best to continue paying fees in the state that you currently occupy, or whether you would prefer to pay fees in your new state. By transferring your state fees to your new area of business, you will ensure that you are legally qualified to perform business transactions.
Federal Taxes
During your corporate move, you should also determine whether your liquidized assets will need to be assessed by the state. Any office items or other belongings that are sold during the move are subject to federal income taxes. In addition, if your stock goes up during your relocation, your shareholders will also need to declare this increase in their income. Your federal taxes will be determined by the classification of your business.
Reorganization
When you are relocating your business as the result of a merger or reorganization, you should also be sure to determine whether you will need to pay taxes on this corporate merger. C corporations are exempt from paying taxes during a merger. By contrast, an S corporation may be responsible for paying federal tax. Your corporate moving company will be able to answer all of your questions about corporate relocation.