If you work from home, then you need to be extra-careful with office moving near NYC. Though it's important to pack all of your possessions securely and label every box, you need to be especially cautious with your home office for record retention purposes. Commercial movers can help ensure that your office records and all of your sensitive electronic equipment are treated with the utmost care, as they would be during corporate moving services. Computer relocation can be tricky, so make sure that you back up all of your files before you begin to move. For more tips on clearing out your home office for a move , watch this video.

If you are moving your small business to a new location, you should hire a commercial moving company in NYC. You will usually have a very tight window of time in which to move all the furniture, computers, and physical records from your old location to your new location, so the help of a professional corporate moving company is indispensable. Organization is key to a smooth office relocation. The tips below will help you stay organized during your move.
Relocate Essential Personnel First
The staff who are most essential to smooth operation of your business should be the first ones out your old office and the first ones to set up their workstations in the new space. This helps you minimize downtown in answering phones and emails so that your customers experience as little lag time as possible when you transition to a new space .
Box and Label All Hardcopy Materials
If you keep physical records of any kind, whether they are for customers, patients, vendors, or employees, make sure you clearly label the boxes when you pack them. Record retention is essential to continuity of operations for small businesses as well as large ones. Use color-coded markers and labels to make sure that everything arrives, and number your boxes so you will know if anything gets mislaid. This also helps you keep all the papers organized as you move them out of boxes and into new file cabinets.
Leave the Heavy Lifting to the Movers
As tempting as it may be to have your employees help with the move, especially if they volunteer, leave everything to your commercial movers. Not only because moving companies have extensive experience transporting even the heaviest and most delicate office equipment, but also because they have special insurance to protect their workers. If one of your employees injures him or herself lifting office furniture or heavy boxes, even if said employee freely volunteered to do so, you are vulnerable to legal action. You can let your employees help with packing and organization, but not with lifting and carrying heavy items.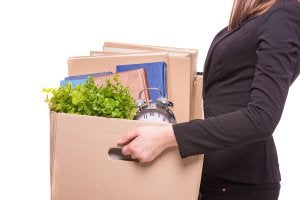 Corporate relocation in NYC does not have to be a hassle. With the help of commercial movers that specialize in corporate relocation services, you can have your office moved quickly and efficiently with minimal interruption in business.
For a smooth office relocation, plan ahead. As soon as you have rented your new office space, begin dividing up the workload of moving. You should assign specific roles to all of your staff during the move, and make sure that your most essential workers move first and set up first in the new space. Also, remember that records retention is important for seamless operations. Make backups of all your data, and organize any paper files you have with easy-to-read labels.
Corporate moving companies should handle transport of all your electronics from one space to the other, but you should make sure that each employee is responsible for packing items in his or her work area.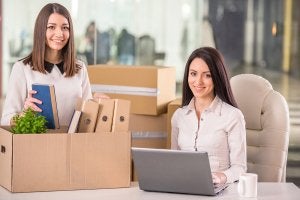 Office relocation in NYC can be exciting, especially if your company is moving to a better neighborhood, a newer building, or a higher floor. Though the commercial movers will take care of moving heavy items such as shelves, desks, chairs, and copy machines, you might want to pack up your desk and office yourself. To keep all your items organized when you do, follow the tips below.
Back Up and Clean Your Computer
Corporate relocation services should include computer relocation to ensure that your workstation and your desktop computer arrives at your new office, but it's still a good idea to back up all your data in case any accidents occur. Once you have backed up your data, remove all accessories and other items from your computer, both the CPU tower and the monitor. This includes screen privacy protectors, document clips, Post-It notes, and any other items. This is also the perfect time to dust off your keyboard and wipe your screen.
Use Separate Boxes for Each Desk Drawer
If you simply throw all the items from all of your desk drawers into one box, you will waste a lot of time-reorganizing everything when you arrive at your new office. To make the process simpler, get several small boxes: one for each drawer. Label each box clearly and secure it with packing tape, and you will be able to unpack everything very quickly.
Wrap Fragile Items Carefully
Many office workers have a small collection of personal items in their office. You may have framed photographs of your family and items such as heirloom paperweights or a handcrafted nameplate on your desk, and framed artwork or diplomas hanging on the walls. Make sure you pack these items carefully, even if your office is only moving a few blocks or a few floors in the same building. During the frenzy of a move, fragile items may be bumped and if they are not securely packed, they may be damaged. Corporate moving companies should be able to provide you with tape, bubble wrap, foam peanuts, and other packing supplies.
Archives
2018
2017
2016
2015
2014