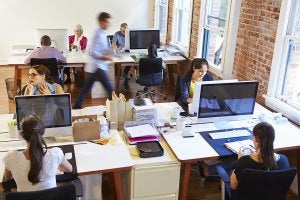 If your small business is expanding, you may soon find yourself in the enviable position of outgrowing your current office space. Cramped workstations, overflowing filing cabinets, and even employee parking difficulties are just a few of the signs that it's time to find more suitable accommodations for your business. However, corporate relocation isn't the same as moving into a new house—there are special arrangements you need to make to ensure that your office move goes smoothly. Here are some tips for business owners to get ready for an office relocation.
Plan for Safe Records Storage
While you are in the process of moving into your new office space, you may need to find a safe place to keep your important paper documents. The safest and most convenient option is to keep your records at a file storage facility in NYC. Even after you get situated in your new office, you may find that keeping your records in storage will free up valuable storage space.
Liquidate Your Old Office Furniture
Whether you're moving into a furnished office or you've purchased new furniture to better meet your company's needs, you may find that you no longer need most (or all) of your old furniture. Instead of leaving it all behind and taking the loss, put some money back in your company's account by liquidating your existing office furniture. If you go this route, make sure the office furniture liquidation company you hire will leave the premises in a "broom swept" condition, which is often a stipulation in an office lease.
Hiring Professional Movers
Instead of relying on your workforce to tackle the relocation, save time and frustration by hiring a dedicated office relocation company in NYC. Commercial movers can have you set up in your new office in no time, and your staff will be able to focus their energies on tasks that directly affect your company's bottom line.