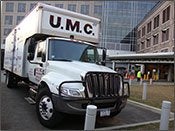 Moving and installing furniture is one of the biggest hassles of the commercial moving process. Fortunately, there are some corporate moving companies in NYC that will liquidate your old furniture and provide timely office furniture installation services. For tips that will help you choose and install new office furniture, read this article.
Consider the Culture of the Company
Furniture has a profound effect on the atmosphere of an office. Modern, comfortable furniture will boost the morale at the office, while boring or cheap furniture may have the opposite effect. If being seated for long periods of time is the norm in the office, it's important to have comfortable seating. If the company encourages openness and sharing of ideas, invest in furniture that allows for collaboration—conference tables, large desks, and seats with wheels. You may not need a desk and chair for every employee if collaboration is the norm at the office. With that said, every company should offer the option of private rooms that allow employees to focus.
Storage
Finding office furniture that meets your storage needs can be a huge challenge, especially if you have a lot of records to fit in a small office. One possibility is to take some of the records to a record retention storage facility. When you store your records with a record retention service, every box—and the contents—is tracked so that nothing is lost. For some companies, this would free up a great deal of space, which can save money and increase the company's organization and efficiency.
Arranging the Furniture
Of course, it's not just the type of furniture that you purchase, but the way it is arranged that has an effect on how it is used. Many pieces of furniture offer multiple functionalities, which gives you the freedom to arrange and re-arrange depending on your current needs. If you are working in a cramped space, arrange the furniture so that your office feels and looks larger.